PROJECT "The Passion" 2016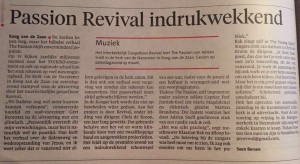 recensie eerste optreden te Koog aan de Zaan
De drie verschillende uitvoeringen van The Passion van Adrian Snell door Interkerkelijk Gospelkoor Revival 19, 25 en 26 maart 2016 waren een groot succes.
Om de afgelopen paasdagen muzikaal te omlijsten, heeft Interkerkelijk Gospelkoor Revival uit Zaandijk, onder leiding van dirigent Chris de Kroon, in Maart het muziekproject "The Passion" van Adrian Snell uitgevoerd. Dit gebeurde op twee locaties in de Zaanstreek en één locatie in Heemskerk.
The Passion is een muzikale uitvoering van het complete paasverhaal; van de aankomst van Jezus in Jeruzalem, het laatste avondmaal en de kruisiging, tot de wederopstanding. Een prachtig verhaal dat geweldig is om met een groot koor te hebben mogen uitvoeren!
Speciaal voor deze optredens was het koor flink uitgebreid met nieuwe zangers en zangeressen. Ook was er een uitgebreid combo samengesteld, met drums, viool, diverse gitaren en blazers, synthesizer en op de piano Tirza van Ollefen.
Voorafgaand aan de uitvoering van De Passion werd er een voorprogramma van een aantal liederen, passend bij de paasdagen, gezongen.