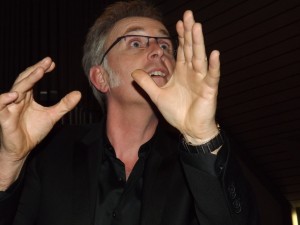 Chris de Kroon is sinds 2002 onze dirigent.
Op 8-jarige leeftijd was Chris al actief in het plaatselijke fanfareorkest. Daar kwam zijn muzikaliteit naar voren en na de opleiding op de muziekschool in Hoorn met veel succes te hebben doorlopen, studeerde Chris aan het conservatorium in Alkmaar. Hij volgde daar de studies schoolmuziek (opleiding tot 1e graad docent), Harmonie-Fanfare-Directie en koordirectie.
Naast zijn drukke werkzaamheden als muziekleraar op een scholengemeenschap en als dirigent van diverse koren, speelt Chris trompet in een Soulband.
Revival heeft onder de enthousiaste leiding van Chris verschillende grote projecten gedaan, waaronder: The road to Bethlehem en Experiencing God.
In 2009 had Chris de muzikale leiding van de musical 'In de ban van de Regenboog'. Deze musical werd door scholieren uit Hoorn en Zuid-Afrika gespeeld en daar ook opgevoerd.
Neem ook eens een kijkje op de website van TYSS.nl het andere koor van Chris.